Top: John S. Allen's Home Page
Up: Table of Contents
Previous: East Coast version
Next:
---
Bicyclists have right of way on the path?
West Coast version:
photo and caption contributed by
Daniel Gutierrez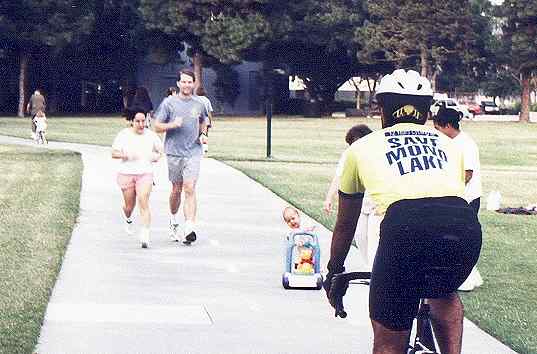 "Got Baby.jpg" shows the joy of trying to ride an arterial sidepath through a city park. The runners, baby and the guy on the bike (me) are converging to the same location on the path. You can see the mother who was blissfully chatting with the guy on the right, frantically trying to reach for the kid when she finally noticed me (I'm going about 5 mph in the picture). The path is in Long Beach, CA and parallels the south side of Carson Street in Heartwell Park and is considered by the City of Long Beach to be a "cross town" bicycle transportation facility and was built with ISTEA money!?!??
---