---
Minneapolis, Minnesota --
University district
John S. Allen
As I approached the University of Minnesota from St. Paul, I found a bike lane properly routed to the left of a right turn lane, though the dashed yielding stripe is unreasonably short and the gutter pan seam is in the middle of the bike lane.
---
Bike lane/right turn lane
on University Avenue westbound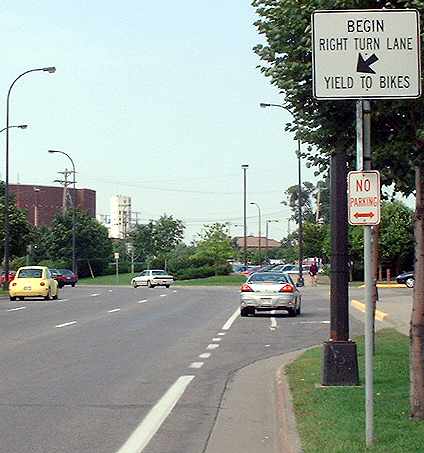 ---
In the district in and around the University of Minnesota, bicycle use by students is very heavy. Conventional bike lanes are installed on many streets, adjacent to the curb -- I did not find any adjacent to parking, so there are no "door zone" issues on the streets I rode.
---
---
I did observe a bus properly merging into the bike lane to pick up and discharge passengers, and a cyclist properly overtaking on the left, but all in all, cycling behavior by students was very poor; probably 75% of the cyclists traveling through intersections were violating the traffic law. All bike lanes I saw except the one shown above extended all the way to intersections, encouraging cyclists to overtake motorists on the curb side, to swerve in front of motor vehicles at intersections, and to ride against traffic. Many did. Other incentives for unlawful cyclist behavior were the many one-way streets, and the short bicycle trips typical of students. There was no management of the one-way problem, as there is, for example, in the similar university district of Madison, Wisconsin, with its median-separated contraflow lane on the main street. The following sequences of photos show typical cyclist behavior at three different intersections in the University district.
---
SE 4th Street westbound at SE 10th Ave.
| | |
| --- | --- |
| | This cyclist was riding opposite traffic iat the edge of the roadway, crossed SE 10th Street and turned onto the sidewalk |
| | |
| --- | --- |
| This cyclist is riding lawfully, but has shied away from the travel lane. If continuing straight, she would need to merge to the right of heavy left-turning traffic. This could have been avoided if she were on the right side of the roadway, only the bike lane is on the left side. | |
| | |
| --- | --- |
| | This cyclist was riding away from the camera on the sidewalk and swerved into the crosswalk to turn right. |
---
University Avenue eastbound at SE 15th Ave.
Two lawful cyclists in the cross street,
one has merged to left of turning car.
Buses make wide right turns here.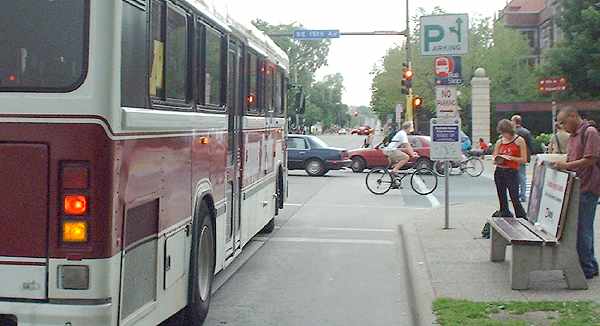 Right hook conflict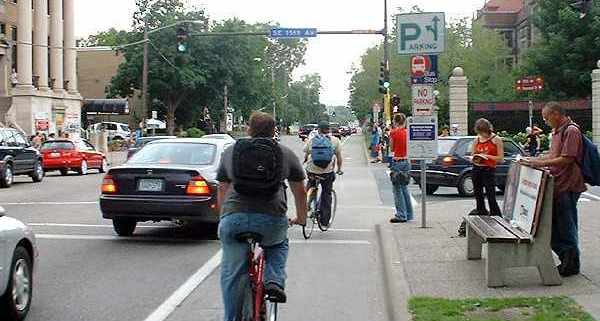 Swerve across traffic. Right turn on red is legal.
Two or three cyclists riding lawfully in cross street.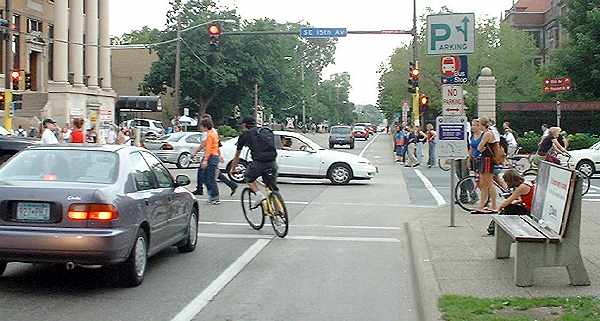 Cyclist enters intersection on red,
overtaking car. Cyclist in crosswalk in background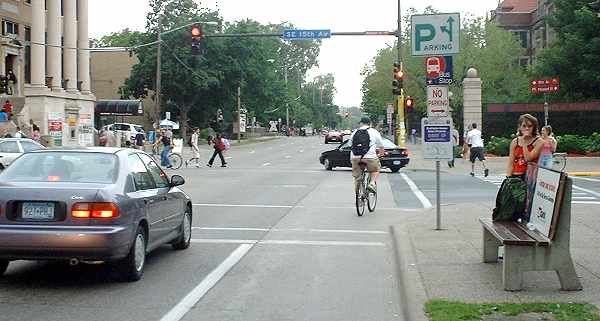 Right hook conflict again.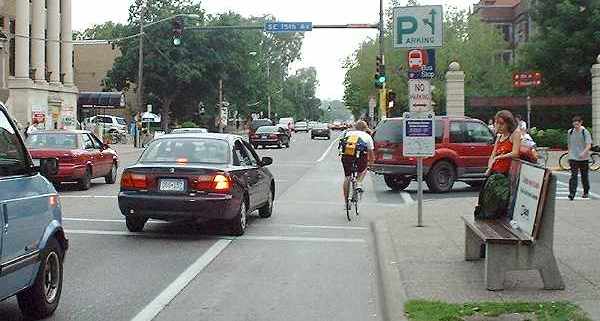 ---
University Avenue eastbound and SE 17th Ave.
| | |
| --- | --- |
| | This cyclist was riding away from the camera in the bike lane and swerved into the crosswalk. Right turn on red is permitted here. If the motorist decided to start up and turn right at just the wrong time... |
| | |
| --- | --- |
| Three cyclists are riding on the left sidewalk. The driver of a left-turning motor vehicle on University Avenue would not likely have seen them in time to avoid a collision. Same for the driver of the white truck, if the light changed at just the wrong time. | |
| | |
| --- | --- |
| | Classic "right hook" conflict encouraged by bike lane. |
| | |
| --- | --- |
| To lawful cyclists and one wrong-way cyclist in bike lane. Cyclist at right on sidewalk of cross street does not know how to dismount for stops. | |
---