Top: Home Page
Up: Alewife Station area
Previous: Panorama
Next: Humpback bridge
---
ROUTE 2 UNDERPASS
AND TEMPORARY TUNNEL
Location E in aerial photo
In the summer of 2001, repairs began on bridge that carries Route 2 over the Minuteman bikeway. The bikeway was placed inside a temporary tunnel made of sheets of plywood supported by steel scaffolding frames.
The purpose of the tunnel was to protect bikeway users from the hazard of falling objects. The tunnel seriously worsened another hazard: muggings.
This problem was entirely foreseeable. In the mid-1990s, following strong community protests, the Massachusetts Highway Department had withdrawn a proposal to replace two bridges over the Minuteman Bikeway in Lexington with concrete culverts. The problem of personal security in the Alewife tunnel is the same one that brought on the community protests, only worse, because the crime rate in the Alewife Station area is higher.
The tunnel could have had a roof but no sides (as is common at construction sites), and still protect people from falling objects. An open fence would have been sufficient to keep people from wandering out from under the roof. Muggers would not be able to hide at the ends of an open structure.
---
Tunnel under Rte. 2 bridge, June 2001, north end.
The overhead sodium vapor lamps inside the tunnel
make it less dark than it appears in the photos.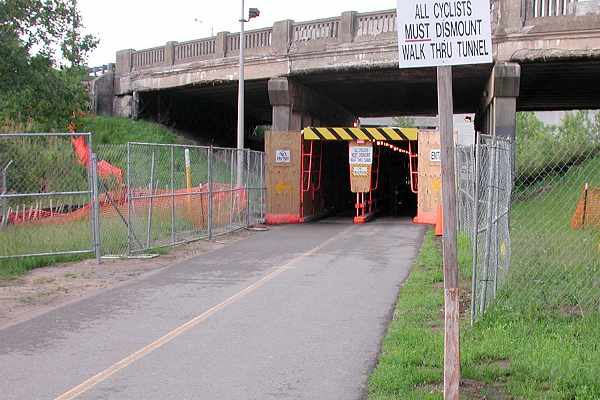 Scott Smith photo
---
South end of tunnel. You can see through to the other end.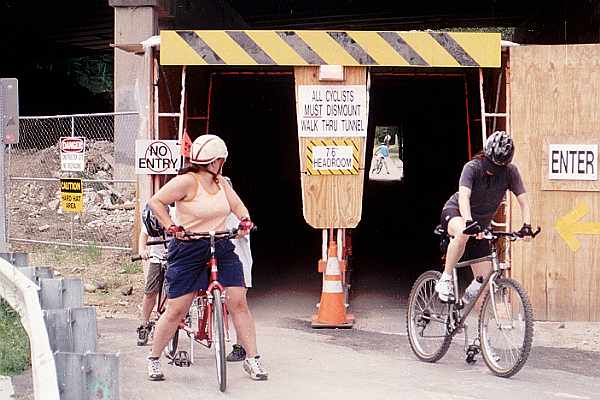 ---