Top: Home Page
Up: Cambridge bicycle facilities and program
Previous:
Next:
---
Bike lanes and religion
on Main Street
Main Street in Cambridge, Massachusetts is a rather wide two-way, two-lane street. It has been striped with bike lanes which, unlike the "trolley track" bike lanes on Massachusetts Avenue and Mount Auburn Street, have a stripe only at the edge farther from the curb. The Main Street lanes also are wide enough that bicyclists can easily ride within them while staying out of the "door zone". The photo below was taken near the west end of Main Street at Lafayette Square on a weekday. The building with Gothic windows is the Union Baptist Church.
---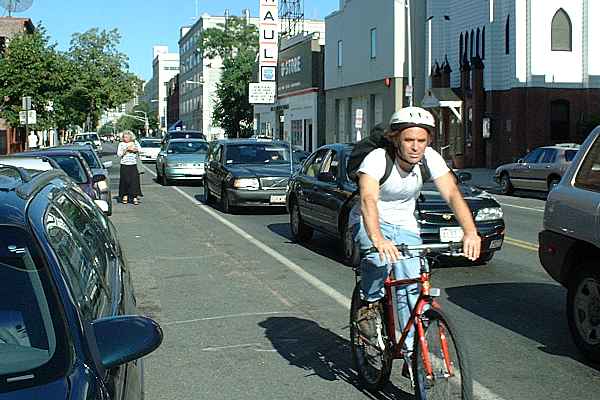 ---
Speaking of churches, bike lane advocacy takes on the quality of an act of faith for some people. Other people are "bike lane agnostics" -- who will not take a stand for or against bike lanes. There are "bike lane atheists", who dislike all bike lanes.
But here's another kind of bike lane religion -- photo taken approximately 11:15 AM, Sunday morning, June 16, 2002, in front of the same church.
---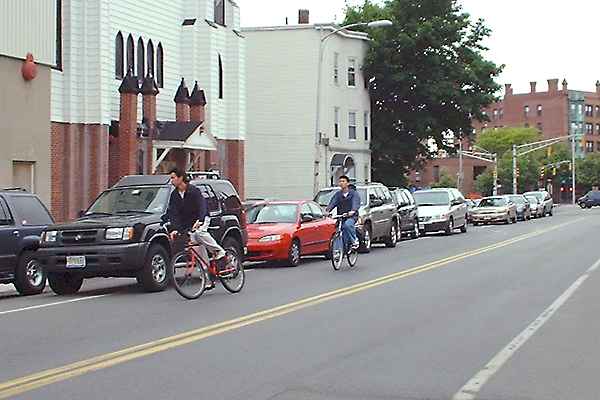 ---
You thought that illegal parking in the bike lanes was mostly a weekday phenomenon? Not on Main Street. Freedom of religion is one of our great American freedoms, but I'm not sure it extends to the freedom to double-park during prayer. I'd say "praise the Lord and pass the parking tickets!"

No sign of enforcement here yet, though...
---
Top: Home Page
Up: Cambridge bicycle facilities and program
Previous:
Next: