Top: Home Page
Up: Cambridge bicycle facilities and program
Previous:
Next:
---
MT. AUBURN ST., HARVARD SQUARE, CAMBRIDGE: BIKE LANES FOR WHAT?
In many cases, bicycle facilities have been constructed whose purpose seems to be more to say that "we can do something" -- to get a foot in the door in the planning process -- than to effect actual improvements.
The bike lanes on Mt Auburn Street in Cambridge fit this description. They were the first bike lanes installed in Cambridge, in the mid-1990s.
There was no way these bike lanes could be reliably usable. Commercial truckers have no alternative but to park illegally when making deliveries to businesses along Mt. Auburn Street.. The police understand this situation and do do not enforce against the illegal parking. The photo below shows typical daytime conditions on Mt. Auburn Street near Harvard Square, just east of John F. Kennedy Street. (Photographs taken August 1999).
---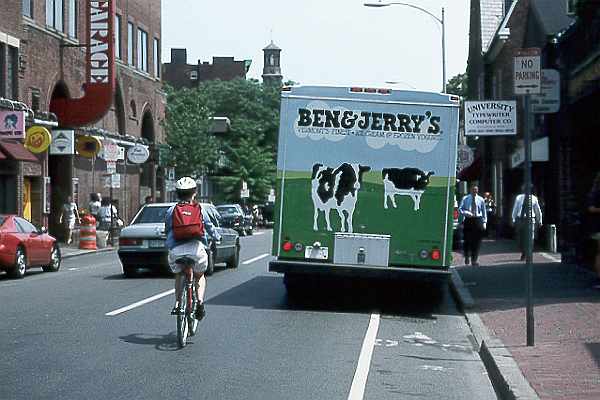 ---
After getting past the first truck, bicyclists encounter three more illegally parked vehicles within the next 100 metres.
---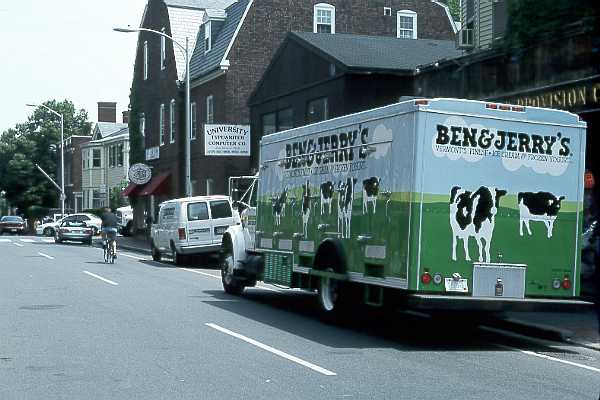 ---
The photo below was taken on February 16, 2001, 10 days after the most recent snowstorm and following several days of warm weather and one of heavy rain. The bike lane is still half blocked by plowed show. Besides this problem, the photo illustrates others: in the block with parking, the lane is entirely within the door zone, and its transition to the curb after the end of the parking is impossibly abrupt for a bicyclist traveling at normal road speed. Transitioning to the right would also increase the likelihood of collisions with drivers entering from the street at the left of the picture, which is one-way toward Mt. Auburn Street (bottom of one-way sign visible in photo). When the parking lane is full, sight distances between the bicyclists and the motorists entering from the side street are too short if the bicyclists are in the bike lane. For all of these reasons, bicyclists must ride outside the bike lane.
---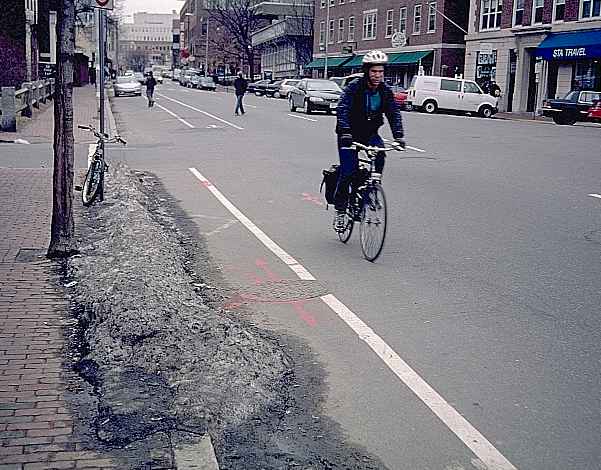 ---
I don't intend to write this just to complain. What kind of solution might be found? Well, the bicyclists in the photos above have found theirs. For riding on a crowded, main artery like this one, bicyclists need to have the skill and knowledge to operate correctly in mixed traffic. While Mt. Auburn Street is no place for children to ride, adults can ride here with no more difficulty and considerably less frustration than when driving a motor vehicle. Perhaps the motor traffic could be slowed to some degree by traffic calming measures, but the illegal parking is unavoidable unless there is a very major change in the way the commercial district is set up.
Alternate routes through the Harvard Square area are few, though there are parallel routes a few blocks away.
---
Top: Home Page
Up: Cambridge bicycle facilities and program
Previous:
Next: