Top: Home Page
Up: Table of Contents
Previous:
Next:
---
NONSTANDARDIZATION OF SPEED TABLES/
HUMPS/BUMPS IN MASSACHUSETTS
Speed humps and speed bumps are "safety through danger" traffic-calming devices which slow traffic through their potential to cause discomfort and even damage if a vehicle is traveling above their design speed. As a consequence, it is important for them to be clearly and consistently marked.

Massachusetts is probably unique in the lack of standardization of these.

The newer designs of speed humps and speed tables are relatively benign for bicyclists, but traditional speed bumps can cause bicyclists to crash. Killer speed bumps have been installed in recent years, including some on the designated Boston-to-Cape bikeway.

Standard speed hump markings are described in the Manual on Uniform Traffic Control Devices, section 3B-27.

This page shows a variety of installations in Massachusetts.
---
Green street at Magazine Street, Central Square, Cambridge, 2004 --
triangles that point away from traffic; stop marking on pavement; stop sign.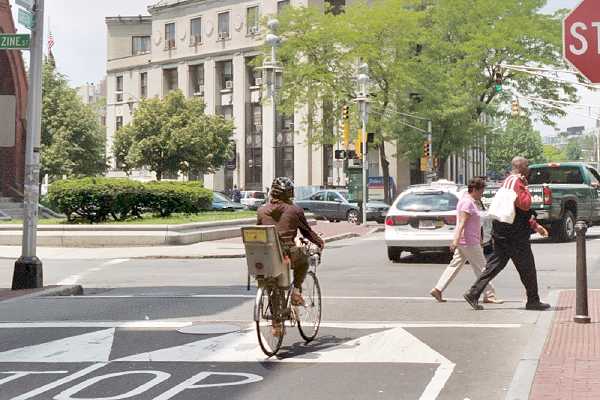 ---
The Manual on Uniform Traffic Control Devices, chapter 3B2 and 3B16 ndicate that the points of yield line triangles are supposed to face toward rather than away from approaching traffic. There are not standard yield-line triangles. In any case, using yield-line triangles with a stop sign is inconsistent; the appropriate pavement marking would be a stop bar.
---
Rindge Avenue, Cambridge, 2004 -- Triangles and brick pavers.
Guide stripes not continued across this wide speed table.
The red pavers in the middle of the speed table define a crosswalk,
but they are not very conspicuous -- especially at night
or when wet. No ladder stripes or crosswalk edge stripes.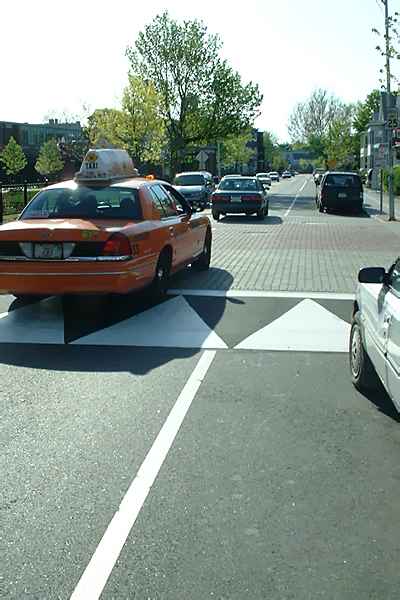 ---
Winchester Street, Brookline, 2001: Arrows
facing away from traffic, and yellow ladder stripes.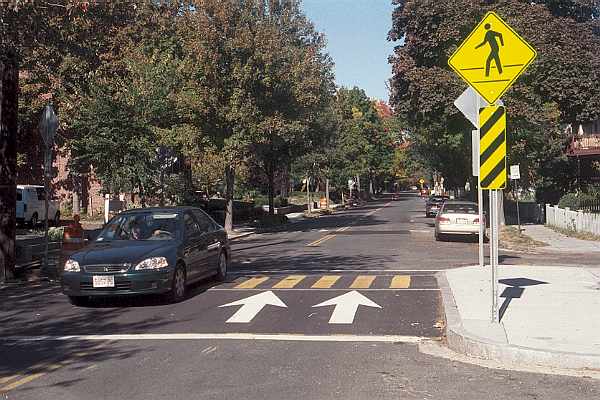 ---
Lexington Street, Weston, 2005: Chevron pattern on top of the hump, "bump" signs.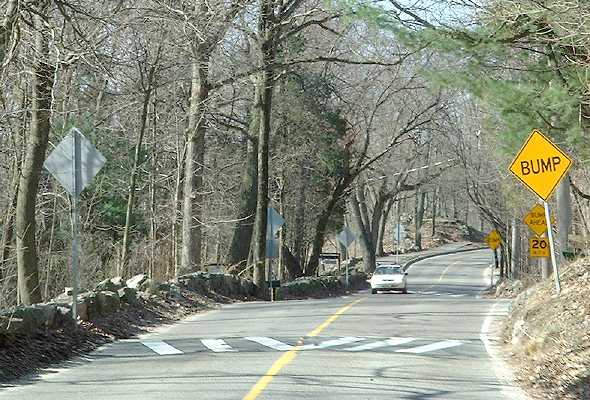 ---
Also Weston: Meadowbrook Road, a private way open to the public
as a through route: yellow paint over top of entire speed hump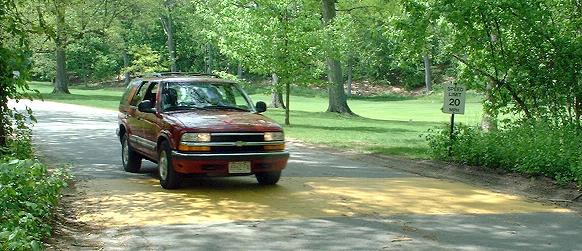 ---
Also on Meadowbrook Road, at golf course:
old-fashioned bicycle-unfriendly speed bump
though with relatively mild profile.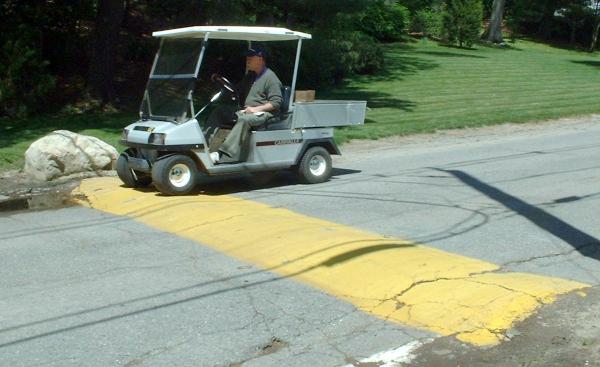 ---
Sudbury Road, Concord: Speed bumps with fading paint,
and 10 mph speed limit, at bridge over the Sudbury River. Why? See
below. Bicyclists can squeeze past the speed bump if they see it in time.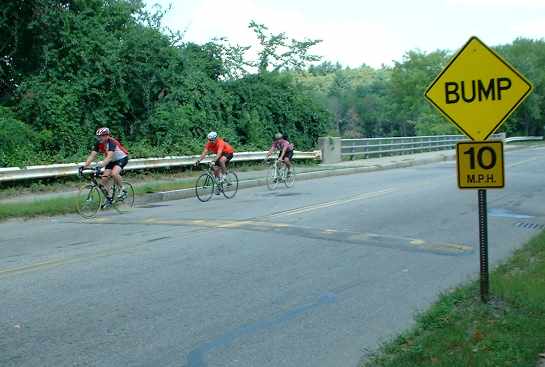 You mention the speed bumps on the bridge on Sudbury Road in Concord MA. These are to the best of my knowledge in fact put there to protect the fragile bridge! They were installed just after a truck punched through the pavement on some other MA bridge. Most of the bridges in MA are in terrible shape and this is apparently how they plan to keep this one going longer. This could be all wrong, but I seem to remember they had more signage when they first put the bumps in that explained it...

Keith Baker
Systems Administrator
MetaCarta, Inc
Cambridge, MA USA
---
On the Claire Saltonstall Bikeway (Boston-to-Cape route):
Massasoit Boulevard on the campus of Massasoit
Community College, in Brockton -- state property: sharp speed
bump (one of many), parallel-bar storm grate and curb that traps
bicyclists. These "improvements" were installed after the
designation of the Bikeway. What were they thinking?
Were they thinking at all?