PRESIDENT BUSH
FALLS OFF
A SEGWAY
© 2003, John S. Allen
Photo and caption from Reuters, fair use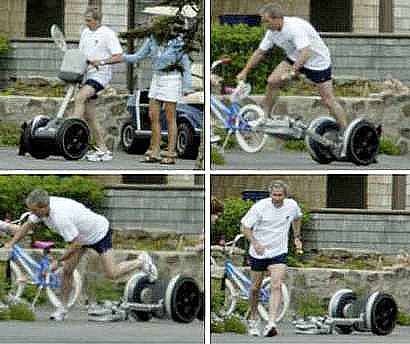 The caption to the Reuters photos posted on Yahoo reads:
U.S. President George W. Bush (news - web sites) is pictured in this combo image falling off a Segway personal transporter on the front driveway of his parents' summer home June 12, 2003 in Kennebunkport, Maine. Bush arrived from Washington to spend the weekend with his father, former President George Bush, who celebrates his 79th birthday today and his mother Barbara. Bush was not injured in the fall. REUTERS/Jim Bourg
I have sharpened the photo, highlighting details. Note the following:
The background makes it clear that the Segway did not move forward at all, but rather, rotated around its axles. Note especially the stone just above the Segway's wheels. It is possible, then, that the President had not turned the Segway on, and so it did not autobalance.
The President is holding a tennis racket in his right hand, both before and immediately after he falls from the Segway. There also appears to be an object in his left hand (see especially photos 2 and 4). Therefore, he could not have been holding the handlebars securely. This failure may have been a cause of the fall.
Despite all concerns about security, and a crash in which the President easily could have landed on his head, he is not wearing a helmet. In this, Republicans and Democrats can share in the foolishness. Former President Clinton was famously photographed riding bicycles with Merlin Bicycles President Ashley Korenblatt and Rep. Joseph Kennedy on (closed) Storrow Drive in Boston during his 1992 campaign, none wearing a helmet.

There is a mystery object, partly visible to one side of the Segway in the first photo and behind it in the second and third photos. In the fourth photo, it has disappeared. Judging by its motion, it is probably a small dog or a cat, and was probably scared!