Understanding Cakewalk
Delete/Cut GlitchEs
John S. Allen
In Cakewalk, deletion works more or less as you expect it to if you just use notes in your music. (Cutting works the same as deletion, except that it places the deleted data in the Windows Clipboard so you can paste it later.)
But if you are other than a diehard minimalist, you probably use controllers, meter/key changes, a tempo map and markers. Then, editing results can become confusing, due to some logical and conceptual problems with Cakewalk's Delete and Cut functions. Let's explore the situation with some examples.
The "why can't I delete" problem
Update: this problem has been corrected in Cakewalk Pro Audio 6.0 and probably in other 1997 Cakewalk releases. At last!
Cakewalk will not let you a delete a time segment unless there is a message in it. For example, if the tempo map and selection are as shown here, the "tempos" checkbox in the delete window will be grayed out. You can not pull forward the tempo map in following measures by deleting measure 2.
Fig. 1. Cakewalk won't let you delete this!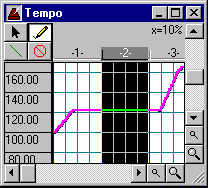 This observation applies to notes, controllers, markers and meter/key changes too. If one of these is not present in the selection, its checkbox in the Delete dialog box will be grayed out. In the case of a completely empty rest measure with no events in it at all, the Delete and Cut commands in the Edit menu will themselves be grayed out.
Is this logical? No.It is an outright programming bug. Music does not consist only of events. Music consists of time, some of which is occupied by events and some of which is not. Even when there are no events, there is still time, and if you can't delete time, you can't move later events forward. Logically, you should be able to select "delete hole" whenever there is a selection to delete, and when you do, checkboxes in the Delete dialog box should be grayed out only if there are no events of their type either in the selection or following it. (In Cakewalk-talk, "deleting the hole" means that you are pulling later events forward into the time segment you have emptied, rather than just leaving empty time.)
The description I have just given is exactly how deletion works in CPA v. 6.0. Maybe the developers read this!
This problem is especially troublesome if you are trying to delete a segment of your music across all tracks, and delete the hole. Let's say that I am trying to delete two measures in the middle of my music. If, for example, there are no markers in those two measures, then I can not delete the hole for markers. Markers will not have moved from where they were before the deletion, but the music has moved forward by two measures.
There are two workarounds for this problem. One is to insert dummy messages in the section you want to delete, to activate the checkboxes in the Delete dialog box. One dummy message of each kind is enough. Another workaround is to avoid the Delete command entirely. Instead of deleting, cut and paste the material you would move by deleting. For example, if you want to delete measure 2, you select everything from the start of measure 3 to the end of the composition, and paste it back in at measure 2. In a long composition, this is tiresome, but it does work.
Let me state this as a rule: If you are going to "delete the hole" across all tracks, you are safest if you do not use the cut or delete command! If you do, you will more than likely end up with a big mess, with controllers, markers, key/meter changes and/or tempos out of sync with the notes of your music. Instead, cut and paste the section that follows your deletion. The problem is especially difficult to repair with the tempo map, which is not shown in Track View.
The workarounds, however, still do not solve the following problem...
This next problem is deeply rooted in the structure of MIDI, and will be corrected only when Cakewalk comes to look on MIDI as only the device control protocol which it is. The structure of MIDI is deeply at odds with what we are used to in audio recording media, onscreen editing, or musical scoring. If we discard a section from the middle of a recording tape and splice the ends together, everything in the remaining parts of the tape plays just the way it did before. If we cross out a measure in the middle of a musical score, the musicians play the remaining measures the same way they did before. If we delete a paragraph out of a document in a word processor, the other paragraphs stay the same. This is not the case with MIDI. In MIDI, a change at the beginning can hold partway or all the way until the end. In this way, the recording studio metaphor of most MIDI sequencers, including Cakewalk, is deceptive and confusing. MIDI editing does not work the way you expect it to..
I have created a 4-measure sequence in Cakewalk 5.0, with the tempo map shown here. In Track View, I have selected measure 2 for deletion in all tracks. I want to pull all of the later measures forward, so measure 3 becomes measure 2, and so forth..
In the Delete dialog box, I check all of the checkboxes including "delete tempos" and "delete hole," and click OK.The tempo maps before and after the delation are shown in the next illustration: